With several hundred subscribers, we rely heaving on TXT180 to spread info about our events, changes, and updates. The services are MUCH easier to use than we could have ever expected, at the cheapest rate out on the market! We at City On A Hill are fans of TXT180, and recommend it for all churches and organizations! Though emails and social media sites are great, most people are not checking them at the time YOU need them to check and see the message. Text messages are usually checked instantly! We love TXT180!
– Russell K.
I love using TXT180 services! The control panel was easy to navigate and setting up my groups was quick and easy! Not to mention the added feature of being able to see how many messages you have used and how many are available each time you log into the system.
I'd recommend TXT180 Marketing services to everyone!
– Darren W.
I recently relocated our business and started using text180, it is a great tool, and a quick way to notify our customers about specials or updates about our company. The interface is easy and simple to use, the staff is very helpful, they even took the time to help me import and export list I had to add to our account. I highly recommend Text180 for quick and short updates for any small business.
– Valerie A.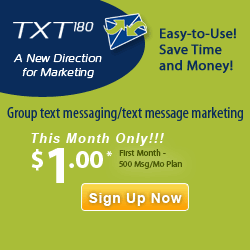 I had 2 texting suppliers and now I have text180. The training, support and functionality are superb. I'm confidence that this will be a long term relationship.
-Emmett J., SOCom Marketing
I just want to thank you for how easy this has been to set up. I have dreading this but it took less than 30 minutes. I love the control panel and the tutorials. It's been a breeze. I can't wait to get started tomorrow AM!!!
– Wendy J.
I have found the use of the site to be easy, uncomplicated and that the support has been very beneficial.
– Phil B.